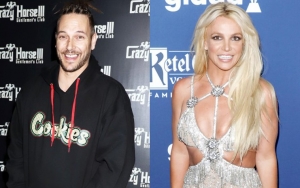 The DJ Says In The Suit That He Deserves A Raise Due To A Significant Decrease In His Income, Adding That He Only Earns $3,000 Per Month.

AceShowbiz - Kevin Federline has officially filed for more child support from ex-wife Britney Spears, with whom he shares two sons, Sean, 12, and Jayden, 11.

According to court documents obtained by The Blast, Federline believes he deserves a raise due to a significant decrease in his income which coincides with an astronomical increase in Spears', who recently wrapped her Las Vegas residency where she reportedly earned $475,000 (£339,836) per show.

The former backing dancer claims to make less than 1 per cent of the "Toxic" singer's income and currently receives $20,000 (£14,987) a month from the star in respect of his sons.

In the documents, Federline draws on the disparities between himself and the popstar, citing that she is "one of the most recognised musical performers of our time," while he "cannot afford" to take his children on holiday or buy them gifts.

In his declaration he said: "I work as a DJ. My income this year is approximately $3,000 (£2,246) per month.

"My income has changed significantly since the child support was last modified in approximately 2008 because I no longer earn a six-figure income like I did in 2008.

"I am simply less of a 'name' and less in demand than I was in 2008, which has negatively affected my income."

Federline first raised the idea of an increase in child support in February when he sent a letter via his attorney Mark Vincent Kaplan which asked for the subject to be revisited.

In March, TMZ reported that Spears' father Jamie, who was put in charge of her finances after her highly-publicised breakdown in 2007, had "rejected" Federline's request for an increase in pay.

Federline concluded his plea by saying he requires "an upward modification of child support" in order to "meet the needs of the parties' minor children while they are in (his) custody."

Kevin Federline Files For Child Support Increase From Britney Spears
Reviewed by
odewole Olusegun
on
Thursday, May 24, 2018
Rating: