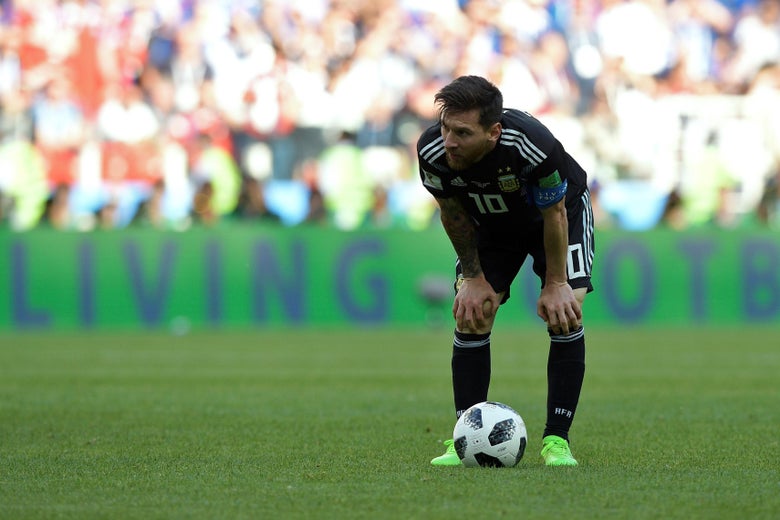 Argentina's forward Lionel Messi reacts at the end of the Russia 2018 World Cup Group D match between Argentina and Iceland at the Spartak Stadium in Moscow on Saturday.
Juan Mabromata/AFP/Getty Images
Amid a World Cup narrative that sees Cristiano Ronaldo in excelsis, it's inconvenient to argue this, I know. But Argentina's 1-1 World Cup draw against Iceland, the world's foremost underdogs, is not Lionel Messi's fault.
Not mostly, at least. Sure, the penalty kick he missed was on him. He should have done better, and he knows it. Or better yet, not done it at all. Messi is shooting just 50 percent on his past 10 penalties for Barcelona and Argentina. But Argentina's impotence in front of the goal is a symptom, not the root cause of their troubles. The penalty miss is the summation of all that went wrong for Messi and Argentina, but the game's defining image is Messi moving forward with the ball on his foot, three or four Icelandic defenders between him and the goal, and nobody else from Argentina moving.
Both Argentina-Iceland and France-Australia on Saturday showcased two traditional powers attempting to solve one of soccer's oldest and trickiest problems: How do you break through a well-drilled, packed-in defense? The difficulty isn't in beating your man; both France and Argentina have plenty of players who could go around any one defender in the world. It's beating him, then the next guy, then the one after that, the opponents filling in one after the other, stepping up, closing gaps—defense as phalanx. France found its solution in the end.
Argentina never did.
Early returns suggested Argentina might be able to smash through. Sergio Agüero's post-up play on the first goal is one common solution. You get the ball through the first line then hold off the second long enough to create your shot. A pass between the lines, a touch away from the defender on his back, a quick turn and an unstoppable shot. Kevin McHale, eat your heart out.
El Kun!

Sergio Aguero creates something out of nothing to put Argentina ahead 1-0. pic.twitter.com/ZSYWIrMBm6

— FOX Soccer (@FOXSoccer) June 16, 2018


But Iceland excels at striking in the transitions of momentum. It's the second consecutive major tournament where Iceland has stolen an equalizer in the brief period of complacency that comes after their opponent has gotten a goal. In the 2016 European Championships, it took the team only two minutes to tie England after an early Wayne Rooney penalty. Here it took four for Alfreð Finnbogason to pounce quickest on a Willy Caballero save to tie the game.
Finnbogason scores Iceland's first-ever FIFA World Cup goal! 🇮🇸👏 pic.twitter.com/gnO14Ciu8n

— FOX Soccer (@FOXSoccer) June 16, 2018


From there, the siege. Iceland's once-promising counterattacks dwindled—they attempted 0 shots after half-time—as they focused on preserving the point against Group D's biggest opponent. Argentina spent too much time looking for the infinitesimal gaps in the Icelandic defensive structure rather than finding ways to pull that structure around and make the gaps bigger through movement and clever passing. (It took advantage of the biggest hole they found all day, earning the penalty while Iceland had a man off the field getting looked at by the medical staff.) The players seemed to lack patience, shooting or firing hopeful passes at the first signs of pressure from an Icelandic player. They allowed themselves to be stressed by that pressure instead of treating it as the first sign of stress on the Icelandic defense.
France's winner against Australia demonstrated another possible answer in the 80th minute. Midfielder Paul Pogba surged past one and then two Australian defenders trying to keep up with him, keeping the composure to play a pair of one-two's and getting a little bit lucky with the bounce off the crossbar.
What a run by Paul Pogba to finish off a pretty team goal! 😍 pic.twitter.com/xfPqDQDyDU

— FOX Soccer (@FOXSoccer) June 16, 2018


France brought in Olivier Giroud specifically to be that back-to-goal presence, to give someone like Pogba time to break through the Australian lines. He showed that you don't always have to go far to create space. Here Giroud stretched backward to trap Pogba's pass and flicked it on into the gap created when an Australian defender stepped toward him. (Watch Giroud—he's wearing the bandage on his head on the left side of the screen by the time Pogba shoots—go from jubilation to devastation and back in the span of two seconds after his contribution to the play is done.)
Argentina didn't have anyone willing to hit the gaps that Iceland's aggressive shadowing of Messi created. Nigeria and Croatia may be able to ask more questions of Argentina's wobbly defense in their remaining group games. If Argentina's going to make it to the knockout rounds, its offense is going to need to come up with some answers
Argentina's Problems Run Deeper Than Messi's Brutal Penalty Miss
Reviewed by
odewole Olusegun
on
Saturday, June 16, 2018
Rating: