Body of woman killed by alligator in Davie found
Shizuka Matsuki attacked by 12-foot, 6-inch alligator while walking dogs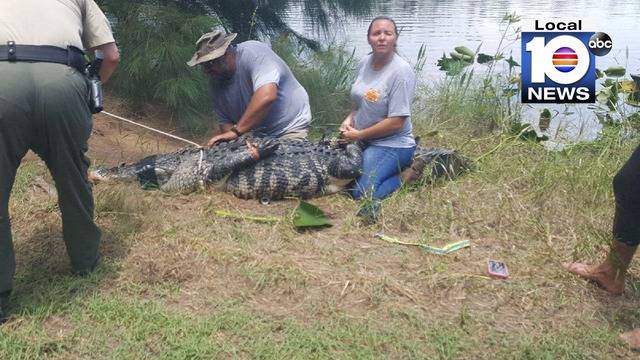 DAVIE, Fla. - The body of a woman attacked by an alligator at a Davie park has been found, according to the Florida Fish and Wildlife Conservation Commission.
FWC spokesman Rob Klepper said in a news release that Shizuka Matsuki, 47, of Plantation, was found at 9:49 p.m. Friday in a lake at Silver Lakes Rotary Nature Park.


"We would like to extend our heartfelt condolences to the family and friends of Ms. Matsuki," Klepper wrote.
Sources on Friday told Local 10 News that an arm had been recovered from inside the alligator.
Klepper had previously said evidence from the necropsy indicates that Matsuki, who had been walking her dogs at the time, was bitten by the 12-foot, 6-inch gator.
Davie police Detective Vivian Gallinal said a man saw Matsuki walking her dogs in the park. A short time later, he said, he saw the dogs wandering alone.
"The witness who called us went to the area where he thought that they had been walking, and he immediately spotted an alligator," Gallinal said.
One of the dogs was found with a fresh wound, but Matsuki was missing.
Residents who live in the area told Local 10 News that a gator is known to roam the lakes in the park. One woman said she let her 13-year-old poodle out in the backyard around Christmastime. The dog vanished.
"Do you think the alligator may have gotten it?" Local 10 News reporter Jeff Weinsier asked.
"Maybe," she said.
A family friend who went to the park during the search for Matsuki said her husband was in Chicago and had been warned by him to stay away because of the gator.
Weinsier asked the city why there are no signs in the park, but he was referred to the FWC. The park, however, is a city property.
A spokeswoman for Broward County Animal Care and Adoption said the agency took possession of three dogs from the Davie scene
Body of woman killed by alligator in Davie found
Reviewed by
odewole Olusegun
on
Saturday, June 09, 2018
Rating: